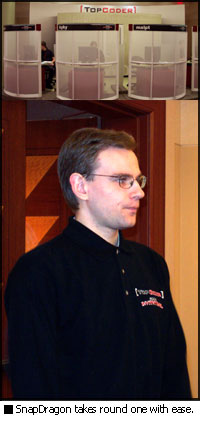 As expected, SnapDragon struts his stuff
by MaryBeth Biondi, TopCoder Staff
Friday, November 22, 2002

In front of a sparse crowd, the morning competitors dealt with some minor system issues and tough problem statements as the first round of competition started at 8:00am.
All four competitors started the round by opening the 300-point problem. Ten minutes later, SnapDragon was the first to weigh in with a submission for 268.59 points. Within the next minute, both malpt and ambrose submitted their solutions for 260.51 points and 257.85 points, respectively. kyky worked on his solution for 7 more minutes before submitting for 219.80 points.
Surprisingly, malpt submitted his solution to the 500-point problem after only working on it for 7 minutes, receiving just over 370 points. Upon further inspection of the problem statement, however, he quickly realized that he had misread it, and began working on his resubmission. ambrose was next to submit a solution 35 minutes into the contest, and received 326.37 points for the 500-point problem. Two minutes later, SnapDragon submitted his 500-point solution for 300.55 points. kyky, after reading the 1050-point problem, decided to work on the 500 instead. Unfortunately, he would not submit a solution to either problem.
For the next 36 minutes, all was quiet on the submission front. Then, with seven minutes left in the coding phase, malpt resubmitted his solution to the 500-point problem for 150.00 points, losing over half of his original points and decreasing his point total to 410.51. SnapDragon had the last say, submitting his solution to the 1050-point problem with five minutes left in the round for 521.09 points. At the end of the coding phase, the point totals stood at 1090.23 (SnapDragon), 584.22 (ambrose), 410.51 (malpt), and 219.80 (kyky).
The challenge phase was quiet for nearly 14 minutes. Then, after lots of thought, testing, and agonizing, SnapDragon successfully challenged ambrose's 500-point solution, further increasing his lead by 50 points. The system test phase was kind to everyone but kyky, who lost his 219.80 points, causing him to finish with 0 points.
In the end, SnapDragon showed why he is the current Top Coder, being the only competitor of the round to finish all three problems and submit a successful challenge. Perhaps malpt's simple statement summed it up best: "It's tough to beat SnapDragon when he correctly solves all three problems." Luckily for malpt, the casino floor is just a short walk away _ he can always place his winnings on double zero, spin the roulette wheel, and hope for the best...