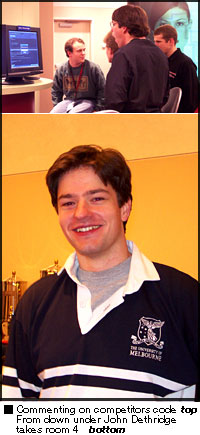 G'day Mate!
by MaryBeth Biondi, TopCoder Staff
Friday, November 22, 2002

The 15-hour time difference between Melbourne, Victoria, Australia and Uncasville, Connecticut, USA may have taken a toll on John Dethridge's sleeping patterns, but not on his thought process. In the most dramatic finish of the day, John Dethridge submitted his 1100-point solution with 10 seconds remaining in the contest, becoming only the 4th person today to submit all three problems in the given 75 minutes.
This contest started at a quick pace with ZorbaTHut submitting his 200-point problem in six minutes for 190.93 points. Two minutes later, John Dethridge submitted his 200-point solution for 187.45. He moved on to the 1100-pointer, while ZorbaTHut opened and quickly solved the 400-pointer in six minutes for 381.23 points. jms137 was the next coder to weigh in with this submission of the 200-point problem for 140.34 points. DjinnKahn rounded out the 200-point submissions five minutes later for 125.78 points, then wasted little time in submitting his 400-point solution nine minutes later for 366.44 points.
After struggling with the 1100-pointer for 13 minutes, John Dethridge opened the 400-point problem. Fifteen minutes later, he submitted his solution for 315.49 points. jms137 worked on his 400-point problem for 24 minutes before submitting his solution and earning 257.76 points. At that point, John Dethridge stunned the crowd with his last second submission of the 1100-point problem, arguably the hardest problem any coder had faced today. Total points after the coding phase were 919.89 (John Dethridge), 572.16 (ZorbaTHut), 492.22 (DjinnKahn), and 398.10 (jms137).
Room 4 produced one of the two challenges of the day when jms137 unsuccessfully challenged John Dethridge's 400-pointer, causing jms137 to lose 50 precious points. All eyes were on the scoreboard waiting to see if John Dethridge's 1100-pointer would survive. Incredulously, it did not. But neither did ZorbaTHut's 400-pointer, so in the end it didn't matter.
Tomorrow's championship round promises to be one of the better ones. Top rated and ranked SnapDragon faces formidable foes in John Dethridge, dgarthur, and moira. As today's contests showed, anyone can win a match at any time. Great job to all of today's competitors. And to tomorrow's contestants - good luck to you in the Arena!