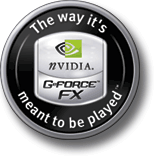 As a world leader in visual computing technology NVIDIA's objective remains solid: to be the most important 3D company in the world. We are committed to developing innovative technologies that deliver stunning multimedia experiences on mass computing platforms. We invest in our people and our technologies, support and fund industry research around the world, and consistently deliver a quality, competitively priced product to our customers.

We constantly evaluate opportunities to partner with organizations that fit our corporate culture and objectives, and we're pleased to again be a part of TopCoder's programming competitions, again as a premier sponsor of the TopCoder Collegiate Challenge. "NVIDIA truly believes that the TopCoder arena fosters an unparalleled competitive spirit among the most brilliant programmers in the world. We are proud to be a part of this initiative again," said Daniel Rohrer, Manager of Direct X Graphics at NVIDIA. "Our corporate culture encourages innovation and excellence and the TopCoder competition model is a perfect complement to that philosophy."

We at NVIDIA wish you the best of luck in the Collegiate Challenge, and encourage you to explore your potential for innovation in future TopCoder programs and at NVIDIA. Regardless of points earned or rounds won, NVIDIA is proud of all who support and invest in TopCoder initiatives, and we look forward to a long and productive relationship with TopCoder and its participants.