July 18, 2017

The Problem with Your Small Business's Website (and How to Fix It)

Last year, B2B research firm Clutch reported that 46 percent of small businesses don't have a website. So as it stands, if your small business has a website, you're already ahead of the curve. But a single page or a fully fleshed-out website isn't a one-and-done solution. Even more tech-savvy companies face problems when it comes to creating a compelling website and delivering unique, intuitive customer experiences. The problem with your small business's website likely lies in its design, and the human elements missing from it. Here's a breakdown of three potential problem areas and some merciful next steps for success with your website.
#1: It's not mobile responsive
Business Insider tells us that U.S. adults spend 59 percent of their time on mobile and 41 percent on desktop. And the reverse is true of dollars spent: U.S. adults spend 15 percent of their dollars on mobile and 85 percent on desktop. While the majority of our technology time is spent with phone in hand, that's not how the vast majority of us make purchases. Why? Because navigating non-mobile responsive websites on a phone is typically tedious and frustrating. Most small companies just aren't where they need to be with their mobile experience yet.


A mobile responsive website seems like a no-brainer when you're in consumer mode. But as a small business with limited internal resources, having a working website often seems like victory enough. Making it mobile responsive may not even be on your radar. But not having a seamless mobile experience doesn't just hurt the look and feel of your site; it hurts your conversion rate and deters potential customers.
#2: There's no clear CTA
The best advice on the subject of any website's call to action (CTA) comes from The Office's Ryan Howard: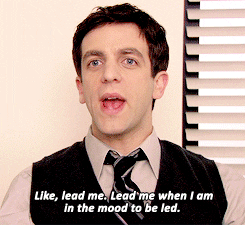 You can lead Ryan to your website, but you can't push him deeper into the sales funnel without a clear CTA. What is your business? How are you different from the other guys? Where can I get more information? Lead us to the right landing page, the right form, the right blog post, the right FAQ, the right video… and do it in a way that prioritizes the human experience. If you don't advertise CTA buttons and ways of getting in touch (e.g., social media, a form, or an email address), there's no incentive for consumers to stick around.
#3: The design is a deterrent
Tolstoy wrote that "Happy families are all alike; every unhappy family is unhappy in its own way." Poorly designed websites are the same way — unique in their flaws. But whether yours suffers from poor navigation, flashy graphics over functionality, or excessive ads for third-party companies, the effect is the same: it hurts your credibility, confuses consumers, and muddles your message. (Particularly that last flaw; no one wants to visit a website riddled with other companies' clickbait.)
Get website help with Topcoder

It's not that it's easier said than done. It's that many small businesses are using duct tape when they should be calling an expert. Topcoder gives businesses of every size — from a single office to a global enterprise — on-demand access to the developers and designers they need to innovate and succeed. Topcoder makes the entire crowdsourcing process easy, transparent, and painless. Here's how it works:
Click here

 to start a project.

Choose the solution that suits your needs, whether it's an app, a website, etc.

Enter your project requirements, submit your project, and sit back and relax.

You did it!

A crowdsourcing expert from Topcoder will review your project and contact you in about 24 hours with a quote and timeline.
Simple! When you're ready to move forward with your project, we'll assign you a Topcoder copilot — a seasoned member of the Topcoder Community tasked with managing all logistics and providing guidance throughout your project. From then on, you'll receive updates, notifications, and deliverables through our platform. Goodbye, mediocre website; hello, booming business.