The 2009 TopCoder Open (TCO) is a world-wide programming and graphic design tournament that is open to all TopCoder members 18 and older, who are in good standing, and meet all other eligibility criteria. There are nine different tracks of competition as part of the TCO: Algorithm, Architecture, Assembly, Component Design & Development, Marathon, Mod Dash, Specification, and Studio Design. Taking part in the TCO09 gives you the opportunity to showcase your programming and/or design skills up against some of the best in the world. We're also dishing out cash and prizes! Becoming a TopCoder member is easy and free. Register here. Have a question? Just email service@topcoder.com. Stay tuned for more details as we finalize the preparations for this awesome event!

Overview
The 2009 TopCoder Open is now complete. Congratulations to all champions!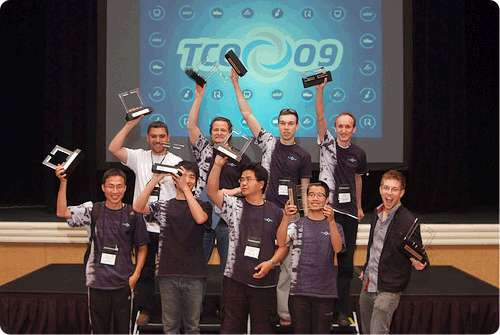 Algorithm Champion: crazyb0y
Architecture Champion: Standlove
Assembly Champion: pulky
Component Design Champion: saarixx
Component Development Champion: assistant
Marathon Champion: KOTEHOK
Mod Dash Champion: PE
Specification Champion: AleaActaEst
Studio Champion: djnapier
Thanks to the TopCoder staff and members for another awesome event!
If you missed anything, check out the TCO09 Blog, photos and videos.
Many of the TopCoder and Sponsor roundtables were streamed live, including a Q&A with TopCoder founder, Jack Hughes - so check out the archived versions!
We hope all competitors enjoyed the TCO09!
Event Patron
Event Sponsors