TopCoder Celebrates 100,000 Members




At the end of the month of January 2001, a total of 18 people had registered as TopCoder members. By June of that year, after the first few SRMs and the first Collegiate Challenge were held, that number had climbed to more than 1,900. By September 2002 – fifteen months, two tournaments, and more than 100 SRMs later — the number of members reached over 20,000.

It took a little longer than two additional years before the member base hit 50,000 — in January 2005 — and a little less than two additional years before it again doubled in size, hitting 100,000 on December 14, 2006.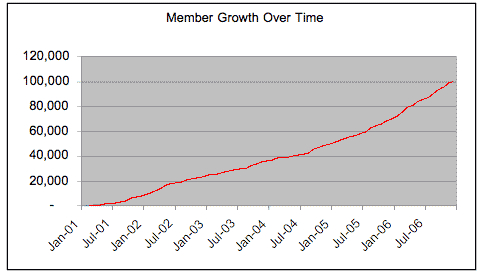 While many members have come and gone over the years, a great many have stuck around. In fact, more than a quarter of all of TopCoder's registered members have been active on the site within the last six months. Traffic on the site has grown with the member base and now averages more than a million hits per week.

Earlier this year, we asked TopCoder members what mattered most to them: "What is the one theory, term, or tactic that you most rely on, and that is most responsible for making you a better coder?" The answers covered a broad range of topics, but some common themes emerged that help explain TopCoder's enduring appeal:



Being part of a community:


The unique character of the TopCoder community has been a frequent topic of conversation. In a discussion after the TCO '06, Pops said, "The community itself should be proud in how it encourages such open, yet non-slashdot like, conversations and friendships."

Having fun:


From the "General Discussion" forum to the onsite events, fun is a big component of TopCoder.

Building skills:


Education has been central to the TopCoder experience since Day One, with practice rooms and educational tutorials generating a significant percentage of the site's traffic.

Challenging oneself:


People may come to TopCoder the first time to see how they fare against the competition, but those who come back again and again seem more interested in improving themselves.